Increase the Lifespan of HVAC Equipment
The Littelfuse time-delay relays protect HVAC equipment from damage caused by rapid cycling of compressors.
Our experts have created an application guide to assist technical engineers in their efforts improve product lifespan and reduce maintenance of equipment. In this guide you will learn more about the following applications:

Bypass Timing


Debouncing - Demand Reduction Timers


Exhaust Fan Delay


Prepurge Gas Vapors


A Dual Anti-Short Cycle Timer - Lockout Plus Random Start Delay


and much more!

Download the Application Guide to learn more about specific HVAC Timers and why they are necessary.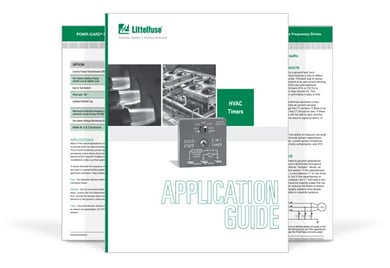 Request the Application Guide