What is G.fast?
G.fast is a digital subscriber line (DSL) standard for local loops shorter than 500 m, with performance targets between 150 Mbit/s and 1 Gbit/s, depending on the actual loop length. The highest speeds are achieved over very short loops. G.fast systems incorporate fiber cable, a distribution point that converts fiber to copper, and a terminal (modem) in the customer premises to convert the G.fast signals to Ethernet, WiFi, etc.
G.fast Neighborhood View (FTTdp = Fiber To The Distribution Point, FTTH = Fiber To The Home)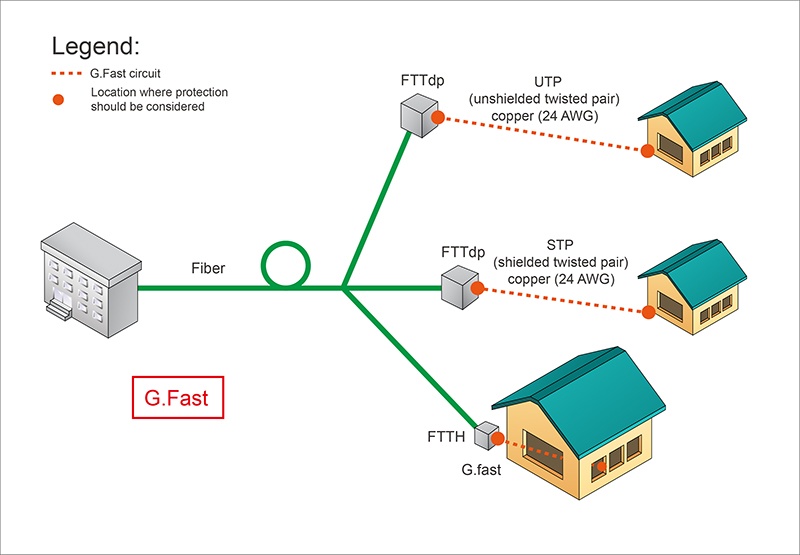 Many operators use FTTH (Fiber to the home) to deliver ultra-broadband to their customers. However, some customer premises locations are costly and difficult to reach with fiber. The effort required to trench cable, dig up yards and rewire households varies widely, adding complexity and cost. New G.fast technology breaks down some of these cost barriers for fiber deployment by linking the FTTdp to the customer premises where the installed tip/ring twisted pair wiring is already available. This clears the path to lower cost ultra-broadband delivery services.
G.fast lets network operators bring the speed of fiber to copper lines. Evolving G.fast solutions and deployment can extend ultra-broadband services to every subscriber.
FTTdp Architecture Neighborhood View
Protection should be considered at all copper interface points. This includes the Distribution Point and Constomer Premises locations.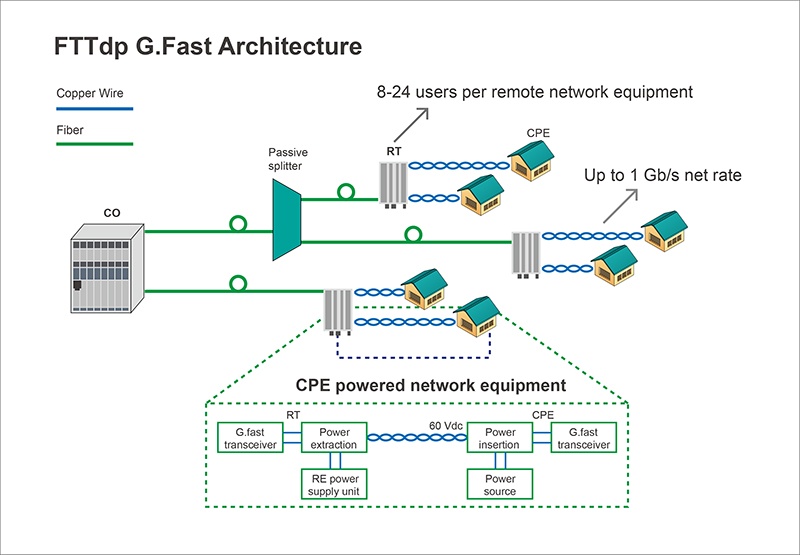 G.fast Protection Solutions from Littelfuse
| | | |
| --- | --- | --- |
| New DSLP Biased Series provides overvoltage protection for applications such as HD-SDI, HD-CVBS, VDSL2, ADSL2, ADSL2+, and G.fast with minimal effect on data signals. | SDP Series SOT23-5, SIDACtor® Protection Thyristors provide tertiary or line driver side protection for VDSL2+, ADSL2 applications and more. | SDP Biased Series - SOT23-6 provides overvoltage protection for applications such as VDSL2, ADSL2, and ADSL2+ with minimal effect on data signals. |
G.fast Improves Upon Previous Copper-Based Protocols - Rates up to 1Gbps have been demonstrated in field trials
G.fast delivers fiber-like speeds over the last meters by utilizing existing copper infrastructure. It also reduces CAPEX (capital expenditures) by deferring the cost of extending fiber to every building and residence. This allows the delivery of ultra-broadband to locations where fiber deployment is difficult. This helps to eliminate the need to enter and rewire residences and buildings. G.fast self-installation are a tremendous benefit for the telco provider as no truck-rolls are needed to implement G.fast.
It should be noted that there will be circumstances when a "fallback" mode from G.fast to VDSL2/ADSL2 may be used, depending upon the circuit conditions. When appropriate (typically on longer loops), the line driver shifts from G.fast signaling to VDSL2, ADSL2 or SHDSL protocols. If selected properly, the Littelfuse overvoltage protection device will be compatible with these alternate modes.