Access Our LED Lighting Design Guide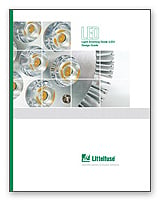 Explore the latest LED lighting industry standards, product information, circuit diagrams and links to application notes and videos using this all-new, interactive LED Design Guide.
Littelfuse, the global leader in circuit protection, created this interactive e-book as a resource for designers of LED residential retrofit lamps and outdoor luminaires.
The Guide's interactive features enable you to quickly find the answers to your LED lighting design questions and review details whenever needed.

Readers of this application note will learn about:
Typical LED lighting designs for a variety of applications
Industry standards that affect the safety and reliability of LED lighting designs
Protection devices most often used for LED driver and power converter circuits
Testing required to insure compliance with industry standards
How to select protective devices so that LED lighting circuits will pass the industry standard tests.